The BizComics Club Blog
The Australian author, critic, broadcaster, poet, translator, and memoirist, Clive James, once said: "Common sense and a sense of humor are the same thing, moving at different speeds. A sense of humor is just common sense, dancing." So it is that our comics, while humorous in nature, very often reflect common sense — a sense that seems increasingly forgotten as time goes on.
In our blog, we hope to expand on that common sense, to clarify some things, to debunk some others. We hope to help you see the complex can be made simple, that it should be made simple. We hope to reinforce what you already know to be true — that because the simplest things are the most memorable, they're the most effective. We hope to work with you to create simple, effective messages to promote your business and your interests. Most of all, we hope to have fun doing those things with you and to make common sense dance.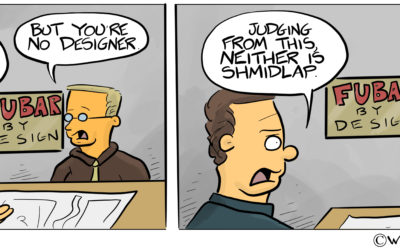 Y'all Pass Me That Bottle What Night Train Express and Thunderbird are to vintage wines, Ventura Publisher is to graphic design. In 1986 (yeah, we were there), Ventura Publisher begat what came to be known as desktop publishing. That opened the world of graphic design...
read more